Memorial Table
There will be a memorial table set up in front of the Supreme Court in Washington, DC all day September 22, 2003. The table will serve as a backdrop for the memorial service and candlelight vigil later that evening.

I encourage all that have lost a loved one that was a medical marijuana patient to consider having that person memorialized. The table will hold pictures, letters, personal effects or anything else that will help remind us all that there is a human loss and misery created by the war on medical marijuana.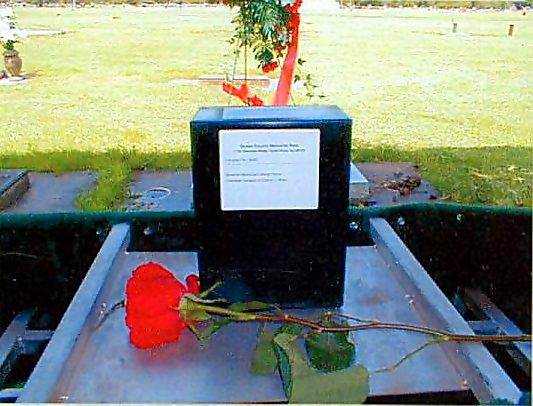 Cheryl's' ashes shortly before they were interred at the IOOF cemetery in Norman Oklahoma
The idea of a memorial table came to me while I was in Oklahoma to have Cheryl's' ashes interred at the IOOF cemetery in Norman. While I was there I went to Oklahoma City to visit the memorial at the site of the federal building bombing five years ago. Immediately after the bombing they put a chain link fence up to guard the rescue/recovery site. Distraught friends, relatives, and surviving family members began putting articles of remembrance on the fence. When the site was decided to be the home of a memorial to the 168 victims, the fence was kept intact and became a permanent part of the memorial. I was amazed at the reality the fence and all of it's mementos brought to me. There were sunglasses, key chains, tee-shirts, pictures love notes, concert ticket stubs and a host of other things that made me cry for the loss they were all still feeling. I thought that this feeling should be duplicated for the victims of our country's failed war against medical marijuana patients. (Here is a photo of part of the wall in Oklahoma City.)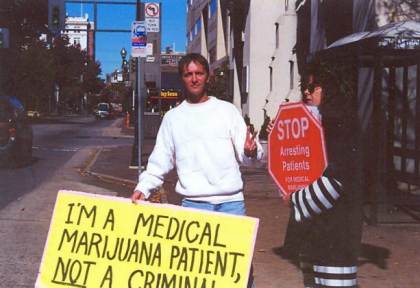 The late Eddie Smith, medical marijuana hero, with Cher in New Jersey, October 2000.
Come Sept. 22 I hope that people passing by the Supreme Court will feel the same way. Cheryl did a lot of things by herself to try and change medical marijuana law in this country. I know that she will not be alone at the memorial table. This can put a face on the medical marijuana tragedy like never before. If you want to have a loved one memorialized that day, please be in touch. I can assure you that it will have the desired effect.
---


In honor of all the drug policy reform activists who worked so hard, but did not live to see the day of freedom and realization. They are true heroes of liberty and justice:
Chris Conrad's Memorial to Reform Activists